We build highly customizable websites.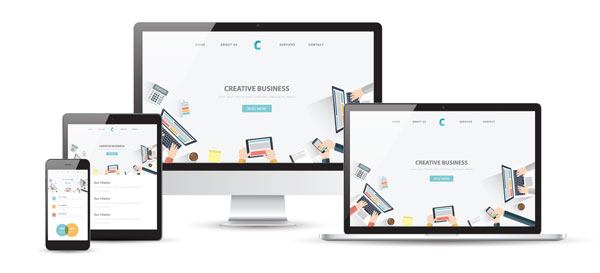 DST has been building websites for more than 23 years. We have been refining our own custom content management system (CMS) by adding new features to accommodate the ever-changing modern website. This system, based on open-source code, allows us to build responsive custom websites with integrated Search Engine Optimization (SEO). If you can dream it, we can build it.
We can build you a customized WordPress website. We leverage highly-rated WordPress themes and plugins to bring you the very best WordPress has to offer. We have the ability to build hybrid websites with custom functionality integrated into a WordPress website. Both platforms allow us to build the website you need.
Click here to see our website design capabilities
Web Based Online Sales Tools
We create customized online sales tools tailored to your company's products or services, at a fraction of cost of an iPhone® or Android™ App
Smartphone Quote System
DST created an online quote system for one of our manufacturing clients to support their distributors in the field, allowing them to create real-time customized PDF quotes using their smartphones.
Nationwide Real Estate Listing System
We created a password-protected nationwide real estate listing for a trucking industry trade organization. This system allows the organization's members to bypass traditional brokerage fees charged when selling or acquiring trucking terminals.
Real-time Color Blend Generator
We have created a brick blend generator that allows our client's customers to generate real-time custom color blends to a downloadable PDF and request a custom blend sample board.
Click here to see it in action
Server Security is a High Priority
As website security attacks become more sophisticated, DST has invested significant resources to keep your website safe!
DST deploys two firewalls for every site. One at the server level (ConfigServer Security & Firewall) and another cloud-based firewall through Sucuri. Our firewalls provide a 256 bit Security Certificate; Website Application Firewall (WAF); Continuous Malware & Hack Scanning – we scan your site every 6 hours; Brand Reputation & Blacklist Monitoring; Continuous Virtual Patching /Hardening; Advanced DDoS Mitigation; Layer 7 DDoS Protection.
DST also utilizes Mozilla's Observatory security scan test.
Mozilla, developer of the web browser Firefox, has built an online scanner that can check if web servers have the best security settings in place. Mozilla's Observatory scans for a wide range of web security mechanisms. Those include cookie security flags, Cross-Origin Resource Sharing (CORS), Content Security Policy (CSP), HTTP Public Key Pinning, HTTP Strict Transport Security (HSTS), redirections, subresource integrity, X-Frame-Options, X-Content-Type-Options, X-XSS-Protection, and more.
DST Servers
DST operates a Virtual Private Server (VPS) at Inmotion Hosting's East Coast server farm. Our server is restricted to DST client's websites and runs the latest LAMP stack software. We provide video hosting through Vimeo for videos embedded on a client's website.
Website Audits - We conduct weekly audits to evaluate your site's health. We look for issues that will affect your website's SEO ranking, broken links, missing images, 404 errors and more.
Website Backups - Every website on DST's server is backed-up every day to offsite Amazon Web Servers (AWS). In the event that something goes wrong with your site, we can restore it in a matter of minutes.
Website Monitored 24/7 - Your website is monitored 24 hours a day, seven days a week. We are alerted immediately by text message and email if your website's uptime is interrupted.
DST offers a wide range of integrated digital marketing services
DST will create a custom digital marketing strategy to drive people to your website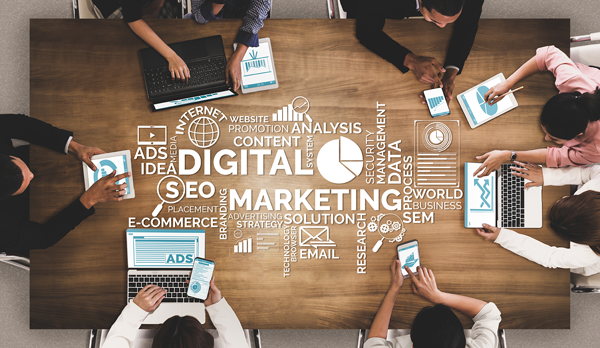 Digital marketing channels have grown exponentially over the past several years. Unlike traditional marketing, digital marketing is a continuously changing dynamic process.
While search engine optimization (SEO) and Social Media are probably the most recognizable examples of digital marketing, there are a host of options to consider. Combinations of search engine optimization (SEO), search engine marketing (SEM), content backlink programs, content automation,  e-commerce marketing, social media marketing, direct email marketing, display advertising and video search can be effective tools in your marketing strategy. DST has more than 15 years of experience creating multi-channel digital marketing campaigns.
Search Engine Optimization & Marketing
Search engine optimization is essential to a successful website. With over one billion websites on the World Wide Web, it becomes more challenging for potential customers to find your website. Google controls about 87% of all search engine traffic and they spell out what you need to do to rank for a specific topic on their search engine. Targeted keyword phrases, advanced schema tagging, page load speed, and quality writing are just a few of these requirements.
SEO is fluid. One day you are on page one, and the next day you are not. We continuously monitor our client's SEO rankings against their competitors and adjust their SEO strategy in real-time. We also audit our client's websites weekly to ensure they don't get penalized for outdated code or SEO tactics.
While search engine optimization is essential, it also takes time to see results. SEM includes paid search listings which helps jumpstart website traffic. DST has the expertise to guide you through the many options, which include pay per click campaigns, online display advertising, retargeting, and video search advertising.
Click here to view a list of our SEO & SEM Capabilities
Social media plays a significant role in a company's digital marketing strategy. DST has the knowledge and expertise to create and maintain your social media.
From copywriting to pictures/graphics to videos, we have the tools and know-how to execute successful social media campaigns. We also have extensive experience with social media advertising. We can create and monitor advertising campaigns with tailored messages to targeted audiences that reach the right customer at the right time.
Click here to view our Social Media capabilities
Email Campaign Integration
Permission marketing is a powerful tool in your digital marketing toolbox. Your customers have said yes, send me your marketing offers. They are already on board. Email campaigns are one of the best examples of permission marketing. Whether you need to automate email responses for actions taken on your website or running online contests to get more likes on your Facebook page, we have the experience to design a robust permission marketing plan for your company. From a simple eblast to integrated email automation, DST has been managing client's email campaigns since 2000.
Check out our permission marketing capabilities
Quality online video at an affordable price
The internet has seen an explosion of video on websites. However, quality video can be expensive. DST has been shooting, editing, and hosting high definition video for its clients for 15 years. We keep our overhead low so that we can pass those savings to our clients. The result is affordable, quality online video for websites, social media, email campaigns, and video search on YouTube. Our equipment is top-notch. We use Cannon Pro cameras, Sennheiser and Shure microphones, and LED lights. We also have green screen capabilities and an on-camera teleprompter. We have experience producing how-to videos, product reviews, medical procedures, event promotions, and company overviews.
See our video capabilities
Custom eCommerce Solutions, Shopping Carts, Amazon, eBay & Walmart sales channels
Selling your products and services online has never been easier. From shopping carts to Amazon to eBay to Walmart, you have many eCommerce options to choose from to showcase your products online. DST can help you build out your store or sales channel.
Amazon Marketplace
We can provide you a roadmap for successfully navigating Amazon's Marketplace. We have worked with the platform for over five years, selling products as a professional third party seller and through the Amazon Prime network. We can help you set up Amazon's pay per click advertising program, establish your own storefront, and protect your account from being hijacked by another vendor.
3dcart shopping cart
We are an official partner of the 3dcart shopping cart platform and currently operate several stores for our clients.
Custom eCommerce Solutions
We have years of experience working with industry leader Authorize.net, so we can integrate custom payment solutions into your website. We have created sophisticated custom order forms connected to payment gateways.
Click here to view our eCommerce capabilities
Let our experts build out your company's digital ecosystem!
We have got your company covered with our extensive list of digital capabilities. Whether you need a custom website built or need help leveraging your social media platforms, DST has the experience to build out your company's digital channels!
Responsive Websites
Custom Content Management Systems
Custom WordPress Websites
Custom Analytic Reports
Custom Forms
Custom Online Sales Tools
Foreign Language Websites
Translation Services
Responsive Design
Website Hosting
Copywriting
Photography
Graphic design
SEO & SEM
Advanced Schema Tags
SEO URLs & Site Maps
Market Research
Competitor Research
Keyword Research
Call To Action Landing Pages
Pay Per Click Google Adwords
Online Display Advertising
Retargeting Advertising
Video Search Advertising
Social Media Advertising
Setup & Track Facebook Pixel Tools
Manage Google & Bing My Business Accounts
Website Analytics Software
eCommerce
Setup & Manage Online Shopping carts
3dcart Shopping Cart Partner
Amazon Seller Partner
Amazon Pay Per Click Advertising
Seller Account Management for Amazon, Walmart & eBay
Product Copywriting, Photography, Graphics & Video
Email Integration with 3dcart eCommerce platform
Custom Website Payment Portals
Custom Payment Forms Integrated With Authorize.net
Social Media
Create and manage social media platforms
Facebook, Instagram, Twitter LinkedIn & Pinterest
Create Original Content
Set Up Editorial Calendars
Manage Social Media Advertising Campaigns
Create Social Media Audiences
Deploy Facebook Pixel Tools
Video For Social Media
Facebook Lead Forms
Campaign Landing Pages
Permission Marketing
HTML Email Campaigns

Email List Building Campaigns
Email List Management
Deploy Mailchimp Automation Platform
Email Integration with Social Media
Email Integration with 3dcart eCommerce platform
Email Contest Campaigns
Affordable Online Video
Shoot & Edit Hi-Def Video For Online Distribution Channels
Green Screen Capabilities
Create & Maintain YouTube & Vimeo Channels
Online Video Hosting
Scriptwriting
On Camera Teleprompter
Video For Social Media
Facebook Live Streaming

DST acts as my website design and digital marketing department. David Samuelson and I go back a long way and have built many websites together. David is easy to work with and great at making sure nothing falls between the cracks. He understands the SEO process and is good at building sites that get indexed favorably by Google.When we start a new project, we develop a plan of action right up front, established time frames, and proceeded to hit those milestones. It is rare for DST to miss a deadline. When David says something will take two weeks to complete, it is done in two weeks. Also, if there is an issue with a project, there is never any finger-pointing or ducking responsibility. If there's a problem, it gets fixed.You will not find many people in the website business as knowledgeable and willing to go the extra mile as David. DST is highly competent and yet still affordable. I recommend him highly.John R. Wirtz
President
Pinpointe Marketing
Client Since 1998

"DST has been great to work with over the past 23 years! In that time we've built six websites together. DST even created a custom online sales tool for us, we call it the Metrobrick Blend Generator – our clients can use it to mix and re-mix their own blends of bricks and mortars to get an idea of what the finished product will look like. They love it! One of our core values as a company is innovation and we definitely see that come to life through our partnership with DST. They also manage our Google Adwords budget for us and we trust those precious ad dollars are in good hands!" Ron Williamson, Marketing Services Director Metropolitan CeramicsClient Since 1998

"As an event venue on a college campus, we have a lot going on! Four email lists, two websites, multiple social media accounts. Students, staff, and the surrounding community all need to have communications tailored to them. DST handled it all and made the process so easy! We were thrilled to see our facebook page explode from 1,800 likes to almost 16,000 through contesting, ads and custom content. This 20+ year partnership has been wonderful." Margo Ohlson, Director E.J. Thomas HallThe University of AkronClient Since 2000
One of our core values is continual improvement, and over the years, DST and its partners have acquired a wealth of experience in creating and marketing websites.
The numbers below reflect the DST Team's combine years of experience!
Website Design
23 years of experience
We have been designing, building and hosting websites since 1997. We have experience building custom websites based on open source PHP code and MySQL relational databases. We also have experience building custom Wordpress websites.
Digital Marketing
18 years of experience
As the internet began to explode, it became clear to us that we needed to help our clients drive people to their websites. We have created digital marketing strategies for clients that include: SEO & SEM, pay-per-click campaigns, digital display advertising, online video channels, retargeting ads, social media advertising, and permission marketing
Custom Content
25 years of experience
Since 1997, we have perfected the skillsets needed to create custom graphics, website copywriting, and scriptwriting for our clients. We have experience with original social media content creation for Facebook, Twitter, and Linkedin tailored for specific platforms. Public relations articles for backlink building campaigns. We also have experience in creating custom, cost-effective online video.